#1: Do you book other entertainment… like a talent agency?
No, we do not. We only book the entertainment packages that you can read about on the other pages of this web site. We are passionate about what we do and our strengths lie in the area of performance and customer service, not in booking other acts. If you are looking for entertainment other that what we are offering, we are happy to recommend other musicians or agencies.
Return to top
#2: What if I don't see a song on your song list that I want played at my event?
No problem. Given enough time to arrange for our instrumentation, we will be more than happy to have it prepared and ready for performance at your event.
Return to top
#3: Will everyone dance to your music?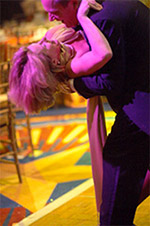 Well, we'd sure like to say, "Absolutely!" But…we're afraid there isn't ANY band who can guarantee that…and if they do…they probably haven't been in the business very long or may not be demonstrating complete honesty with you! Our strength lies in entertaining everyone. Some folks dance all night long, others dance often, some want to be entertained at their seats and then still there are others who love the "background" music as they are more interested in conversation with the folks at their table. Luckily, when you hire Radio King Orchestra…you can please all your guests.
Return to top
#4: What is the demographic of your audience?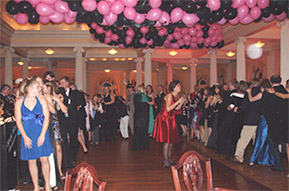 Since we perform for a wide variety of events within such a diverse metropolitan area, that question is a difficult one to answer. We CAN tell you we perform for collegiate events, weddings, dances, galas, 50th anniversary parties, Centennials and everything in between – most consisting of a wide range of ages! This music is timeless and loved by so many different generations and ethnicities that pleasing the majority of guests is exactly WHY our clients hire us!
Return to top
#5: Do you have to know HOW to dance to this type of music?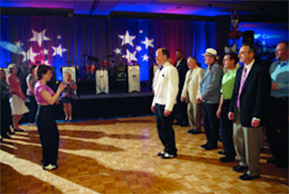 Absolutely not! In fact, if you think about it…big band swing music is easier to dance to and not look like "Elaine from Seinfeld" than a lot of other music. Just grab someone's hand, move your feet swaying to and fro – back and forth and you're dancing! If you get daring, twirl your partner! As well, observe that this music does not promote inappropriate dancing at your event either, as a lot of the music of today does – an important factor for our social and corporate clients who appreciate that built-in "governor" helping to keep their events chic and elegant. Now, if you want to learn how to dance like the pro's we can hook you up as well…with either private or group dance lessons. Maybe you'd like to have professional dance instructors there at your event! You can receive dance lessons and personal instruction on the dance floor with some of the area's top professional dancers. We believe in the balance of learning to dance and making it fun! We work with instructors who intentionally DO NOT intimidate their audience but on the other hand, help the guests feel like they CAN dance. Our instructors can teach anyone to dance confidently AND to many styles – not just swing – but waltz, foxtrot, jitterbug, cha-cha, mambo, salsa, and more!
Return to top
#6: What do you wear when you perform?
We usually dress in formal attire which consists of black tie tux or white dinner jacket and gown. However, when dictated by the client and if the event is of a casual nature we have matching shirts that promote the unity and standards of Radio King Orchestra. Since we are not a "pick-up band," we understand the value of appearance and promoting a professional image.
Return to top
#7: What if the venue contact or my event planner is concerned about the size of the band for the room?
The venue or event planner has an appropriate concern however; most of the time, we have found that it is more of a volume concern than a space concern. The majority of the band is acoustic and not amplified and our sound can be controlled and adjusted in order to coexist and not infringe upon the inherent conversation in the room. If there really is a space concern we will be happy to visit the location to determine whether the full orchestra or the RKO Combo may be more appropriate for the room.
Return to top
#8: Can you break down to a smaller ensemble as Radio King Orchestra?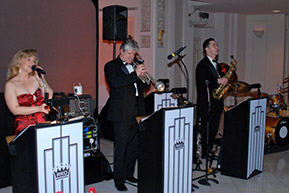 The 10 piece is the smallest configuration of the "big band" we offer in order to maintain the integrity of the lush musical arrangements that Radio King Orchestra performs. We do, however, offer the RKO Combo which has a slightly different repertoire and can be contracted as small as a trio to as large as an eight piece combo.
Return to top
#9: Can you provide cocktail and dinner music?
Absolutely. Our full orchestras are also set up to provide light music while cocktails and dinner are taking place. However, we also offer the alternative to break down into smaller subsets and provide appropriate music before the dancing starts. For example: a trio for cocktail music and a piano player for dinner music. We will work with you for the exact combination.
Return to top
#10: Can you provide wedding ceremony music?

Sometimes. If the instrumentation requested is such that we can pull from our existing core of musicians, we are happy to work with our clients to provide the professional music they want at their ceremony. This would be an additional cost. If the client requests different instrumentation, we will certainly recommend a professional musician, musical ensemble or agency that can help provide that service.
Return to top
#11: Do you travel?
Yes we do. Because each out of area destination contains different logistics and requirements, we work with the client to obtain appropriate information to determine the additional costs.
Return to top
#12: Can you help me plan the order of events at my reception or event?
Sure, we would be happy to. We take a comprehensive approach and understand that we're not the only service provider hired to deliver their product to certain standards in order to fulfill your vision! We work with our clients and the other vendors involved to create a flow to the event that will:
allow each service provider to do the job you hired them to do;
allow the events within the affair to take place at the appropriate times;
create an enjoyable experience for your guests and give you one less thing to worry about!
Return to top
#13: Can we come see you perform before we contract the band?

We absolutely encourage you to come out and see a public performance! Contacting us well ahead of time usually provides more than one opportunity to come see a performance. However, if we do not have a public performance before the date you want to initiate a contract, we do not make it a practice to invite prospective clients to our private events; just as we would never invite a prospective client to your event. Most of our new clients DO hire us without having seen a performance in person due to the vast number of word of mouth referrals, our notable credentials and the media that is on our web site and Facebook page. We understand however, that some customers are not comfortable hiring a band without seeing them in person and we respect that.
Return to top
#14: Can we meet you in person before we contract your services?
Definitely! We highly recommend a face to face meeting before you contract us. It gives us both the opportunity to get to know one another and ask more questions to make sure we are a mutual fit. You can then feel absolutely confident with your entertainment choice if you decide to hire Radio King Orchestra. On the other hand, if we find that we are not a good fit, we will gladly recommend another group if we possibly can.
Return to top