Values
Our Vision
| | |
| --- | --- |
| | Radio King Orchestra is internationally celebrated as the unique big band entertainment package of choice, providing our clientele with an affair to remember long after the event has ended. As ambassadors of this great American art form we build bridges that unite and bond generations and cultures creating and fostering appreciation of this timeless, universally treasured music. |
Our Mission
We have built a team of top quality musicians who reflect and share the core value of commitment to excellence in performance and conduct for the purpose of delivering an extraordinary experience time and time again.

Through live performances, recordings, mentorship and education, we are committed to creating a boundless passion and ongoing legacy for this musical art form that will enrich lives and inspire youth for generations to come.
Serving our customers with care and respect is imperative from the initial contact, through the contracting process, event and post performance activities. We understand and place significant value on our relationships, accepting accountability, providing direct access and presenting dynamic performances; attracting and retaining clients who appreciate the difference and have admiration for our organization.
Our Culture
OWNERS
We live and promote a foundation of integrity, continuous self development, and servant leadership encouraging the dreams and entrepreneurial spirit of those with whom we come in contact.
We display genuine appreciation and value our team members, customers, and business associates.
We enjoy the journey of building the orchestra and bringing joy to others through performance, knowing the power that music has to transform the individual and make a difference.
BUSINESS
We continually educate and grow ourselves in business while expanding and developing our creativity; thus increasing our value to our clients, the public and our musicians.
We are committed to leading through example and making a difference through music, performance, service, and philanthropy.
We inspire, educate, and encourage musicians and artists of all ages to see the value of business ownership.
MUSICIANS
We own a business that musicians want to be a part of and strive to continuously provide an atmosphere that is fun, financially rewarding, exciting and musically fulfilling.
Our environment on and off the stage embodies and displays appreciation of our musicians.
We value the creativity, musical ability, enthusiasm and contributions of each of our band members and in return receive high-quality energetic performances from our musicians.
CUSTOMERS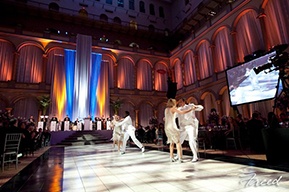 Our clientele is affluent in spirit, abundantly resourceful and discerning in quality and value.
Our customers are secure with their decision in entrusting the entertainment of their guests to Radio King Orchestra. Our business process and genuine interest in the success of their event provides our customers with confidence in our services and recommendations, resulting in enthusiastic referrals.
Our customers see and hear the difference and are willing to invest in the value Radio King Orchestra delivers.