Whether your guests or patrons are dressed up and seated theater-style in the ballroom of a hotel or dressed down and gathered on the lawn of a beautiful outdoor setting, Radio King Orchestra has entertainment that will thrill your guests…young, old…and somewhere in-between!
We can also dress up or dress down – always wearing classy and appropriate attire, of course.
We can put on our normal and time-tested fun and energetic performance or put together a concert to include music that fits your theme…holidays included!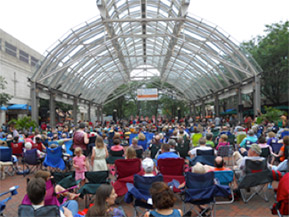 "Robin and Rick, What a wonderful night you have provided us. Many, many thanks. The music, the musicians and the program were simply outstanding. The Radio King Orchestra is indeed a consummate group of professionals. Thank you for bringing your great sound to the Smithsonian Jazz Cafe."
~ Randall Kremer, Director of Public Affairs, National Museum of Natural History Smithsonian Institution
"On behalf of the entire National Cherry Blossom Festival Committee, this letter is an expression of our appreciation for your participation representing American entertainment at the 2004 National Cherry Blossom Festival Opening Ceremony at the Mandarin Oriental, Washington DC. This letter only skims the surface of our depth of gratitude for your help."
~ D.M., Executive Director, National Cherry Blossom Festival Committee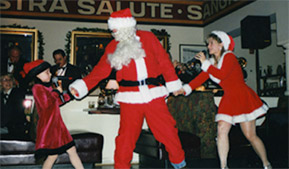 "A great 'Christmas' program; wonderful music, very good stage presence and a vocalist with a beautiful voice! An audience of 504 loved every minute!"
~ B.B. Women's Club of St. Mary's County
"Just a note to let you know how very much I enjoy listening to your group. What a talented group of musicians and so nice, too!! You all make my month!! This RKO fan will see you on your next gig at Timpano's. Keep up the good work."
~ J.D. (Fan)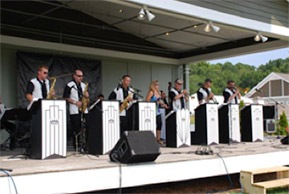 "Thanks for a great show last weekend! Everyone here at The Kennedy Center was very happy about the whole Spring Gala evening. Thank you for being a part of it!"
~ Amy Swann, Coordinator, John F. Kennedy Center