Corporate & Associations
Having a great band for the big dinner dance or closing night gala is a must! However maybe you are looking for even more entertainment for your guests and attendees above and beyond the dance!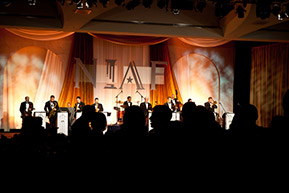 Dear Rick and Robin,
On behalf of the National Italian American Foundation, I wish to extend our appreciation for your participation in this year's Salute to the Martini event.
Your orchestra had an amazing performance and we have been receiving rave reviews and positive feedback from all of our attendees. We were so happy to have you be part of our event again this year…

~ Rebecca Bartello, Sr. Manager of Development, NIAF
We take a personal investment in your event! We know you have great ideas! Let's sit down together and brainstorm to make your event truly unique. As RKO is an independent band, you can work directly with the owners, operators and performers who will be present, performing and accountable during your event. We find that brings great peace of mind to our clients.
We'll customize our performance or floor show package for your corporate, conference, convention and association entertainment needs. Each show works for seated concert/theater-style seating or dinner rounds and is set-up to include audience participation through dancing and interaction when appropriate. Designed to be simple in lighting, sound, and staging, we'll keep your costs to a minimum.
Let Radio King Orchestra develop and recreate entertaining vintage commercial spots for your sponsors! It's a great way to deliver more value and a unique sponsor benefit!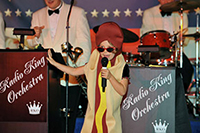 Can you guess which company this little "wiener" was advertising for?
As well, let Radio King Orchestra make your life easier by providing a one–stop shop for your entertainment needs throughout your multi–day event. We'll keep the flow of your theme throughout the conference by delivering additional music or other entertainment that will compliment or add drama to the general sessions and other activities. If we can make your life easier and bring more value to the whole event for the attendees, then we've done our job!


November 10, 2008

Dear Robin & Rick,

I can't thank you enough for all the contributions Radio King Orchestra made toward the success of our recent program.

Wow, does Radio King Orchestra know how to entertain! The USO dance and production that was created for our 300 plus Outlook Leadership guests at the US Naval Yard was fantastic.

I also appreciate how you were able to tailor a show that dovetailed so well to the conference in relation to the industry it serves and the type of guest that attended. For example, the special touches incorporated to recognize key sponsors added significant value.

In the realm of corporate related entertainment options, Radio King Orchestra receives my highest recommendation.

Sincerely,

Paul Reuter
President & CEO
CSP Information Group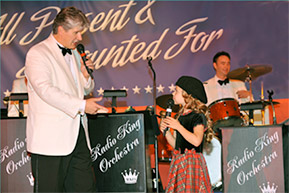 "Our event was a constantly evolving target and RKO was fantastically flexible and considerate. Both pre event and onsite was flawless. RKO keeps you on track and is very responsive to any needs or requests. We utilized RKO's talents in many unique ways with very special requests and rapid transitions. They were very professional and responsive looking for what we (the client) envisioned and making it come to fruition. They took a personal investment in the success of our event. They sincerely over delivered to my expectations…superb from start to finish …was a pleasure…and made us look like a star! Our attendees were very happy and had a great time!"
~ Luke Kircher, Event Coordinator, CSP Information Group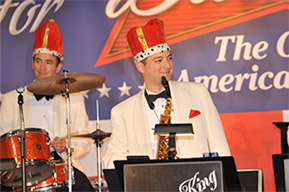 "…I always hire entertainment for our annual convention and was just starting to look at options….we worked on budget, ideas and options and ended up hiring the RKO for our 100th Anniversary. We were not disappointed! It is the first time in years that our attendees stayed to listen to the band until the very last song. The dance floor was full for the first time – ever! My only regret is that I did not have a cash bar nearby to keep more people there – they loved this band! My boss was so pleased that he wants to bring them back for a future year! They are truly more than a band – they do an amazing show!"
~ Leslie Zeck, CMP, CMM Director, Meetings & Conventions, ACEC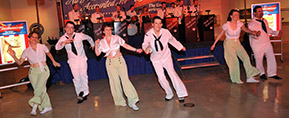 "Thank you!! You guys went above and beyond! I cannot thank you enough for everything – the band was amazing, Mark & Ellen were amazing and of course the two of you!! Amazing! It isn't everyday that I have the opportunity to meet and work with people that are so passionate about what they do as you are. Your kindness, sincerity and generosity are all well noted. It was truly an honor and a pleasure!"
~ Danielle Couick, on behalf of the 2009 Gala for the National Association of Catering Executives D.C. Chapter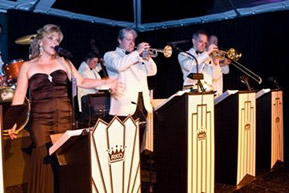 "I wish to thank you for making this weekend a truly memorable occasion for the Merchant Marine Veterans, our guests and all of the staff at MITAGS. On behalf of the Merchant Marine Veterans, THANK YOU."
~ C.M., Director of Conference Center Operations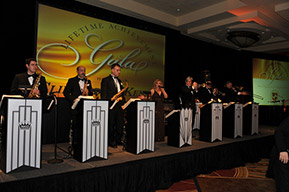 "We want to take this opportunity to thank you for helping us make our 17th annual U.S.S. Salem Reunion such a success. The orchestra was fantastic. Everyone loved all the members of your group. You could tell by the dancing that was done by everyone. In fact, my husband had only danced with me once and that was on our 50th Wedding Anniversary….Now I can say he has danced with me twice as he danced with me at the Reunion. WOW! Again, thanks for making our group have such a wonderful time."
~ ED. U.S.S. Salem Association
Honors and Awards Dinners
Conference/Convention Galas
General Session
Holiday Parties
Customized Theme Shows
Executive Retreats
Alumni Association Events
Trade Shows
Milestone Celebrations
Dinner Dances
Retirement Parties
VIP Dinners
"RKO put on a great show at my conference's social event. Once their allotted time was up, I couldn't tear my attendees away – they just wanted more, more, more! They were very accommodating to our song requests, a joy to work with overall!"
~ Courtney Mino, Meeting Planner, AGN International
"Delightful and truly exciting…a first class group of musicians that provide unforgettable sparkle and tremendous energy!"
~ Ann McLean, John Kluge Event Coordinator, Library of Congress