Our large big bands as well as our smaller ensembles are perfect dance band entertainment for the person who wants something different. Our brides and social affair clients want music that is highly danceable yet not heard at every other wedding, social affair, or club they may go to. They are looking for the best classic music performed with excitement, elegance, spunk and RKO's own artistic flair.
"…I love this music because it's great for all ages. The older generation loves it and the younger generations think it's really cool music. Also, I can dance with anyone and not have to worry whether it's an "appropriate" dance – you can't do that with a lot of today's music! With RKO, I don't have to worry about what the band is playing and I can enjoy the evening!"
~ E.C. (23 years old)
"My wedding was the most important day of my life. I could not have asked for a better band! Ever! You performed flawlessly and made the event a fun and memorable event for everyone. Thank you so much!!!"
~ Andrea L. Barrick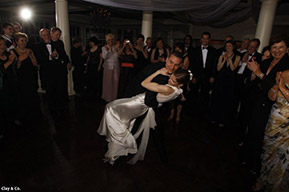 Photo: Clay Blackmore
"Robin & Rick, As if we didn't know it, everyone says "the orchestra made the wedding." That was the plan and you guys came through. We can't thank you enough and special thanks for accommodating our daughter, she said that it was the thrill of a lifetime. Thanks again."
~ The Finegan's
"RKO was terrific!! They did so much to make our reception fun from helping to select the reception/dance floor layout to creating a playlist. Robin and Rick are so easy to work with and knowledgeable about how to create a fun, upbeat reception. The music was fantastic and had everyone up and dancing . . . even my younger cousin! Everyone thought that having a real band instead of a DJ was a unique touch and they loved the music. RKO is a band of great talent and I would highly recommend them to anyone!"
~ Bride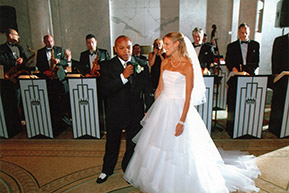 "RKO's music was fresh, upbeat and exciting. A fun and welcome change for my crowd. The 16 year olds were dancing with the 60 year olds!"
~ Bride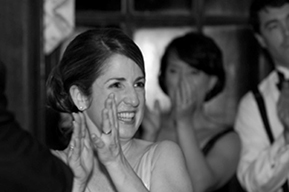 Photo: Joy Jensen
"It was a delight working with you. Your orchestra is that rare combination of extraordinary talent, unquestionable professionalism, and full-hearted charisma. Many thanks for adding that extra special touch to our wedding."
~ L.N.
"When I think about my wedding reception, as a bride there isn't a thing I would change. A very significant part of that fabulous evening was RKO. The music was spectacular! Thank you for giving us such wonderful memories from an evening I want never to forget. Because of your responsiveness and warmth and professionalism, I can honestly say I felt no doubts about your role in the scheme of my wedding. You gave me that kind of confidence!"
~ Winnie Walsh Keon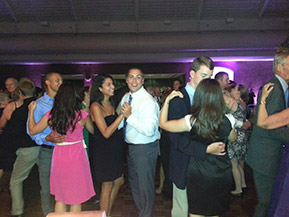 "Choosing RKO for our wedding was the easiest decision in planning our wedding after seeing them perform at a friend's wedding a year earlier!"
~ Kris & Jenn
"You guys made our wedding something special that we will never forget. To this day, engaged couples we know ask us for the name of the great band that played our wedding. As a matter of fact, RKO was such a big hit at our wedding that even our preacher has recommended you to other couples he weds. Choosing to have live music was the second best decision we made when planning our wedding, hiring Radio King Orchestra was the best decision."
~ Mike and Nadine Showalter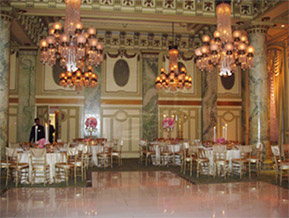 "Robin and Rick Gordon will go the extra mile to make your wishes come true! They were so accommodating and easy to work with and most of all, their music is fantastic and Robin has the voice of an angel. We love them!"
~ Evelyn Brandt